Get the Health You Want

Be in control of your health with wellness coaching and mentoring with Venetta Kalu as your ultimate guide. Our packages will help you in your short or long term journey to optimal health.

Transform Your Health

If it's healing you want, get it at the Path of Life If it's balance you want, get it at the Path of Life If it's rejuvenation you want, get it at the Path of Life

Modalities You Need, Want and Desire

We offer colonics, V-steams, Body wraps, Body slimming and Body detoxifying saunas, Nutrition coaching, Weight loss coaching, and Natural remedies to rectify most health situations you are facing.

Cooking Classes and Seminars

We will be having monthly cooking classes and healthy living seminars on Sundays. Stay tuned.
Welcome to the Path of Life Healing Center!
 You receive services with that Midas Touch!  You will feel the transformation and healing your body desires in our quaint, peaceful, very inviting environment to have a good healing, relaxing and rejuvenation experience your body will love.  Services are rendered by our well trained, knowledgeable staff.  People have been receiving our services in the DMV for the past 18+ years.  Our clients come from all parts of Virginia, Maryland, DC, Baltimore, Delaware, Pennsylvania, New York, the Carolinas and even as far as from Germany and Africa.

Please call us to book an appointment on 301-267-3136..


W
e would be delighted to serve you!  However, if you have no time to call,
book an appointment on line at this link: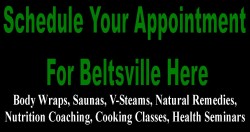 We have SUNDAY, Evening and same day appointments when available.  We are also open some holidays!
For a list of our Services Click this Link Here:  List of Services

If radiant health and more energy is what you want,
you will get that with Path of Life Healing Center!
We offer colon hydrotherapy, body wraps, v-steam, body slimming and body detoxifying at this time.  We offer you health, healing and wellness for optimal health.  Are you a woman or man who want help figuring out what food and lifestyle changes work for you to reach your health goals?  Here at Path of Life our specialty is: 
resolving digestive issues,

lowering cholesterol numbers,

blood pressure and sugar numbers,

reducing menses symptoms (cramping, pms, etc) and

regaining health
We can also help you transition to a more plant-based diet.

Path of Life Healing Center is the absolute best place for you to have a wonderful healing experience.  Our quaint environment, board certified and knowledgeable Naturopathic Doctor / colon therapists, assures you will have a wonderful healing experience.  At our spa you get:

one-on-one personalized, private care;

you are not rushed;

you get your questions;

you get quality services;

you get a tranquil, harmonious, friendly, peaceful environment;

you get results.
Current Pic of Ms. White in 2012 DC Pageant

Body Wraps and Saunas helped her win.

Current Pic of Ms. White in 2015 DC Pageant

Colonics, Body Wraps and Saunas did the trick.
Preparing for a pageant, body building or swim suit competition, let us help you get the body you want as did Ms. White. After a series of wraps, saunas and colonics, she placed 5th in the 2012 Ms. District of Columbia Pageant USA; 4th in a 2013 DC pageant; and 3rd in 2014 DC Pageant. Click here for WRAP details / Click here for SAUNA details
301 . 267 . 3136

4600 Powder Mill Road, Suite 450- K
Beltsville, MD 20705
        Get the attention you deserve?  
One conversation with us today, could change your status for a lifetime!
Please call us, email us or book your own appointment today!   301 . 267 . 3136 | drkalu@drkalu.com…. 4600 Powder Mill Road, Suite 450-K, Beltsville, MD  20705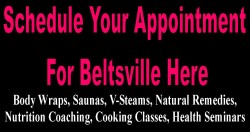 Book your body wraps, body slimming & body detoxifying saunas,
v-steam, natural remedies, holistic healing, cooking classes & seminars
Office of Coach Kalu

Directions: From Rt. 1 after you pass Rhode Island ave intersection, drive slowly until you see the commercial building and signage on the right. Take the first right into the parking lot. If you miss the turn take the next right and drive toward the back of the building and drive around to the main entrance (as pictured above), which you passed by. From 495 after you pass the 7-11 drive slowly until you see the commercial building on the left. Take the second left into the parking lot. If you miss both turns, make a U-turn when possible and come back and make the first right. Stop at the main entrance as pictured above. During the week days, a receptionist should/might be there to let you in, greet you and direct you to my office. On the weekends, please call 301-267-3136 and I will come out and let you in, because the doors stay locked at all times. This address is: 4600 Powder Mill Road, #450-K. Beltsville, MD 20705.
Our SIGNATURE packages: Our signature packages are combinations of services that have been created by us for your unique enjoyment to get a taste of what we offer and to help you get results. Enjoy!  Click here to see all our packages:  Click Here.
We also offer Holistic Health coaching over several months. This is for those who needs extra special help and hand holding through difficult times.  Click here to see our coaching packages
It's What You Eat
Do you have poor eating habits? Do you try your best to eat well? Are you confused about what to eat because of all the information our there? Are you jumping from one diet to the next and not seeing results? Do you want a nutrition plan personally designed for you that get results? Call and set an appointment the visit will take about 1/5 – 2 hours.
1 nutrition consultation
1 Symptom Assessment (can include interpretation of labs)
$180

Know Your Body
Know what is happening inside your body before it becomes a costly problem to fix.  It's wise to know and understand your body! Knowledge is power and self knowledge is all that and more.  A deep holistic Health Consultation coupled with the various assessments listed here will help you stay on top of your game.  You will leave the appointment with current working knowledge about your health and know what to do about it.
Holistic Health Consultation
Nail, Tongue, Face & Eye Assessment (what your current diet is doing to your body)
Symptom Assessment
Herbal & Supplemental Recommendations to fix any problems before they start
• $260!

Enhance Your Body
Enhance what your mother gave you by combining the trim and know your body packages.  An abbreviated
Holistic Health Consultation with nail, tongue, face and eye assessment symptom assessment
1 Body wrap or sauna session TBD at appointment
1 Detox E book (12 day detox guide or Lemon Cure) TBD at appointment
Herbal, Nutritional and Supplemental Recommendations
• $280!

Refresh Your Body
Your reproductive system is the essence of your life.  You need to protect it with a fierceness.  However, it is often the most neglected part of your body.  We wash and go, which is a good thing.  However, more care needs to be taken of the circulation to our nether regions (whole lower body).  The V-Steam / P-Steam (V= female; P=male) is most beneficial when done in a series. Get 4-1 hour sessions to deal with stubborn odors and infections.
4 V/P-Steams
• $300!

Trim Your Body
Do you! Cleanse, detox, purify your body and lose inches at the same time to have a more toned appearance.  Also reduce the toxins and waste that causes systemic inflammation, poor immune system functioning, poor circulation, rashes, low energy, all day fatigue, mental confusion, looking older than your peers and cellulite.
3 Osmotic body wrap
2 Body Slimming Detox Sauna (1hr ea)
Holistic Health Consultation with recommendations
• $330!

Now You can Book Your Appointments Online and Receive Online Confirmations to Effectively manage your appointments: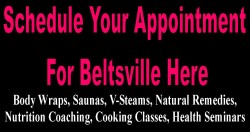 Please Take Notice of Our Hours of Business When Booking Your Appointment:
Sun                  12:30p – 4:00p
Mon & Tues   4:30p – 6:00p — We take the last person at 6:00p
Wed                 2:30p – 6:00p — We take the last person at 6:00p
Fri                   11:00a – 4:00p — We take the last person at 3:00p
All hours are by appointment
Please Take Notice of Our Hours of Business When Booking Your Appointment:
Sun                12:30p – 4:00p  (Call to book Sundays).
Mon & Tues 4:30p – 6:00p — We take the last person at 6:00p
Wed               2:30p – 6:00p — We take the last person at 6:00p
Fri                  11:00a – 3:00p –We take the last person at 3:00p
All hours are by appointment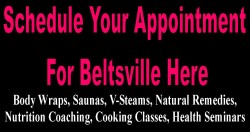 ---
Disclaimer:  These treatments are solely for prevention, colon cleansing and detoxification and are in no way a substitute for traditional, allopathic medical care.  If you have severe symptoms or any serious disorders, it is your responsibility to seek the attention of a medical professional. Understand that in answering your questions we do not diagnose or prescribe, but offer nutritional information only to help you cooperate with your doctor in your mutual quest of building good health.  In the event you use this information without your doctor's approval, you are prescribing for yourself which is your constitutional right.