301-559-6500 | 6495 New Hampshire Ave., Suite #105 | Hyattsville, MD 20783  
Welcome to the Path of Life Healing Center!
Welcome to colon hydrotherapy, saunas, body wraps, vagina steam sauna, nutrition counseling, wellness and healing in the DMV.  
I work with women and men to help you figure out what food and lifestyle changes work for you to empower yourself to reach your health goals.  I specialize in resolving digestive issues, lowering cholesterol numbers and blood pressure and sugar numbers, reducing menses symptoms (cramping, pms, etc), regaining health and helping people transition to a more plant-based diet.

Path of Life Healing Center is the absolute best place for you to have a wonderful healing experience.  Our quaint environment, board certified and knowledgeable Naturopathic Doctor / colon therapists, assures you will have a wonderful healing experience.
Please call (301) 559-6500 for your appointments; or e-mail drkalu@drkalu.com with any questions or concerns. We have same day appointments if available; we also have evenings, Sundays, and some holidays!
Colonic,  Colonics, Colon Therapy, Colonic Irrigation, Colonic Therapy, Colon Cleanse or Colon hydrotherapy; these are the services to describe the same GREAT Treatment! This is NOT a Do-it-yourself colonic service. Your therapist is with you at all times; this is a very important component of your service with us.WE ARE THE BEST IN THE AREA! Our Therapists are Instructor Certified and Board Certified Colon Therapists in the State of Maryland.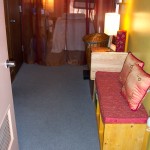 We also specialize in osmotic body wraps; saunas therapy to heal, slim down and cleanse; we specialize in the VaSauna to heal and cleanse your female parts.
Now that you found us join us in helping to create the body you want as did Ms. White who placed 5th 2012 in the Ms. District of Columbia Pageant USA after a series of body wraps and body slimming saunas with Dr. Kalu and then placed 4th in 2013 in a different Pageant after another series of colonics, body wraps and sauna sessions.

Click here for WRAP details

/

Click here for SAUNA details

.
 

17 years Primarily dedicated to the art of NON-SURGICAL removal of horrendous pathogens and wastes with all natural remedies.
Uniquely focused highly skilled modalities from artist, Naturopath, specialist.
1,000s of successful natural remedies, colonics, body wraps, VaSaunas, body slimming and hyperthermia sauna treatments and consultations performed.
Specializing in Colon Hydrotherapy in MD, Body Wraps in MD, Saunas in MD, Hormonal Balancing in MD, Digestive Balancing in MD, Detoxing in MD, Wellness and Healing in MD.




15 Minute Consultation Free with Service:
301 . 559 . 6500
The Path of Life Experience:
• Helps you cleanse your digestive tract to end that bloated feeling, gas, constipation and that heavy low energy feeling with Class I FDA approved Colon irrigation.
• Helps you lose inches, tone and tighten your skin as well as cleanse your lymphatic system from toxins that cause cancers with Osmotic Body wraps and Face wraps.  
• Helps you reduce heavy metals that contributes to auto-immune diseases and inflammation in your body.  You can also burn off extra pounds with Body slimming and detox sauna.  
• VaSauna therapy helps you tone, freshen, tighten, detox and heal issues with your female reproductive organs and pelvic region.
• Helps you clear your sinuses and ear passage with Ear Candling.  
• Helps you reduce your body fat creating a healthy body and increased vitality with our slenderize or trim signature packages. Combine with our Nutrition Counseling service.  
• Helps you destroy cancer cells, parasites, bacteria, fungus which causes sicknesses of all kinds with Hyperthermia treatments.  
• Helps you find the right dietary strategy for you to get and stay healthy for a lifetime with Nutrition Counseling.  
Call for a Free Consultation:  301 . 559 . 6500
  When was the last time you talked with someone about your health; Had all your questions answered and received the attention you deserved?  
One conversation with us today, could change your status for a lifetime!
   Please call us, email us or book your own appointment today!   301 . 559 . 6500 | drkalu@drkalu.com 6495 New Hampshire Ave., #105, Hyattsville, MD
Our SIGNATURE packages: Our signature packages are combinations of services that have been created by us for your unique enjoyment to get a taste of what we offer and to help you get results. Enjoy!  Click here to see all our packages:  Click Here
Now You can Book Your Appointments Online and Receive Online Confirmations to Effectively Manage your Appointments: Click Here To Book Appointments
Please Take Notice of Our Hours of Business When Booking Your Appointment:
Sun 12:30p – 4:00p — Call to book Sundays.
Mon & Thur 10:30a – 6:00p — We take the last person at 5:00p
Tues & Wed 10:30a – 7:00p — We take the last person at 6:00p
Fri 10:30a – 4:00p — We take the last person at 3:00p
All hours are by appointment
We are excited to have our own line of products and detox books to help benefit your health and also for your pleasure!  
 Path of Life Premium Products Link:  Click Here  
How to choose which detox to program is best for you?  The 12 Day Detox Guide is for more chronic illnesses (health issues you have been dealing with for a long time and have learned how to live with) and the Lemon Cure is for more acute illnesses (sudden onset and annoying).
12 Day Detox Guide: The Best Detox to Cleanse, Build

and Energize Your Body to Gain Perfect Health:  Restore and Transform Your Body by Reversing Diseases:  Click Here  
The Lemon Cure: The Best Cleanse to Beat, Destroy

and Reverse Diseases:  Click here  

The path to optimal health is in these 9 Secret Doctors.  This involves a nine week e-course with weekly coaching emails to help you achieve your health goals.  Click here for more information  

Contact Information and to make an appointment: Call Dr. Venetta Kalu, ND, MPHA at 301-559-6500
 6495 New Hampshire Ave., #105 | Hyattsville, MD 20783 Email us at drkalu@drkalu.com
Our Mission is to Help You Help Yourself Have the Health You Want! Make Your Appointment Now: 301-559-6500 Be Well!
Disclaimer:  These treatments are solely for prevention, colon cleansing and detoxification and are in no way a substitute for traditional, allopathic medical care.  If you have severe symptoms or any serious disorders, it is your responsibility to seek the attention of a medical professional. Understand that in answering your questions we do not diagnose or prescribe, but offer nutritional information only to help you cooperate with your doctor in your mutual quest of building good health.  In the event you use this information without your doctor's approval, you are prescribing for yourself which is your constitutional right.